As I was finishing design school in the early eighties, women's fashion was all about menswear. Professional opportunities for women were more accessible than ever before. Films like Working Girl popularized the importance of 'dressing the part'. Reacting to this 'new high-power career woman', fashion for women mimicked the style for the professional man.
Designers like Giorgio Armani, with his men's tailoring background, hit their strides.
Styles were masculine - tailored suits, buttoned-up shirts, and of course the enormous shoulder pads. If, by some slight chance, your blouse didn't have shoulder pads sewn in, you added a pair of foam ones- even in your t-shirts.
About this time, after great success and a Coty Award, designer Donna Karan left Anne Klein and started her own company.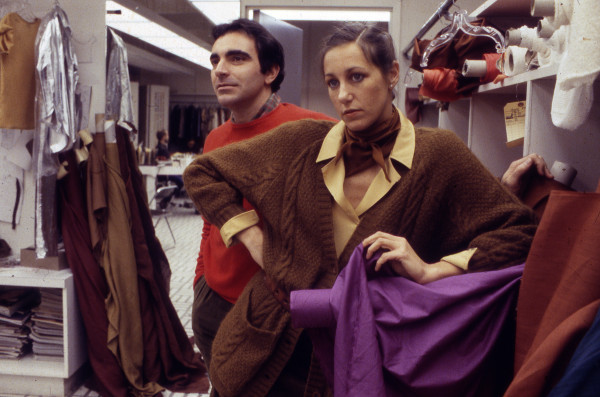 Donna Karan and Louis Dell'Ollio - design partners for Anne Klein, 1980
We both launched our first collections in 1985 - mine to a couple of hundred people in a vacant office space and hers to a slightly larger audience- but we shared similar philosophies - Easy to wear designs for real women.
Her show opened with the models wearing only black body suits and tights then progressively adding wrapped skirts, pull on pants, jackets, etc. -Showing the versatility and layering ability of her collection, Seven Easy Pieces. It was brilliant.
Karan's first collection, 1985
I was very inspired by Donna Karan. Her idea to design 'Modern clothes for Modern people', resonated with me. I felt that women wanted to dress to feel beautiful, but didn't want to take all day doing it.
After almost 30 years, I still feel that way. Early on I designed a few simple silhouettes that have remained staples of my collections for years, updating fabrics and lengths. I've kept the same philosophy of style and dare I say 'comfort'. Not all the way to 'I'm in my sweats' comfort, but the 'I feel put together and I'm not tugging or pulling on anything and I can actually sit down in this' kind of comfort.
This season's version of my signature sarong skirt in black stretch lace with ivory lining.
So, as she celebrates her 65th birthday this month I say,
Donna Karan, photo Ruven Afandor
Happy Birthday, Donna Karan!
and thanks for the inspiration and confidence you sent my way to design 'woman to woman'.
- Janet